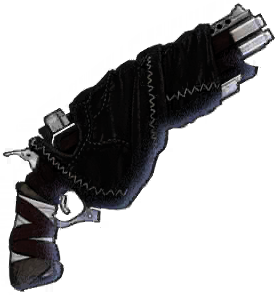 Woundcloak Gun
Lv. 15/15
Bandaged Ripper x5
Deal 45% damage to one enemy 5 times and reduce their attack by 20% for 10 seconds.
Cooldown: 19s
Lv. 15/15
Bandaged Soldier x4
Deal 45% damage to one enemy 4 times and increase all allies' agility by 7% for 10 seconds.
Cooldown: 14s
Lv. 15/15
Bold Vigor
Damage up by 20% when HP is above 70%.
Lv. 15/15
Fleetfoot
Agility up by 10%.
Lv. 15/15
Barrier: Miasma of Indolence Rank 4
Reduce the effect of Burden: Miasma of Indolence.
Statistics
Timed or conditional passives are not included in the stats.
Stories
A couple lived in country of artisans. Though the wife was a
master weaver, the husband was a nameless gunsmith, and
all wondered why she married him.
The wife's works sparked like jewels, and even royalty wanted
them. Yet no matter her fame, she always returned to her
husband at the end of the day.
As for the husband, his first gun was a work of genius, but
everything after was shoddy. Soon, even his wife's kindness
became a source of jealousy.
Finally, the husband set fire to their home. Afterward, his genius
gun was found wrapped in a protective blanket, for this was the
wife's true love.