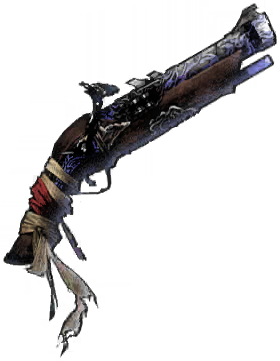 Snakeheart Pistol
Lv. 15/15
Snakeheart Blitz x5
Deal 100% damage to one enemy 5 times.
Cooldown: 20s
Lv. 15/15
Snakeheart Void Boon x4
Deal 100% damage to one enemy 4 times and increase your dark damage by 30% for 15 seconds.
Cooldown: 23s
Lv. 15/15
Void Boon
Dark damage dealt up by 30%.
Lv. 15/15
Void Haste
Skill cooldown time reduced by 10% while equipped with a dark-affinity main weapon.
Lv. 15/15
Barrier: Curtain of Darkness Rank 4
Reduce the effect of Burden: Curtain of Darkness.
Statistics
Timed or conditional passives are not included in the stats.
Stories
Guns. We love guns. Can't live without 'em! Everything
in life—health, communication, money, singing, playing,
childmaking—it's all done by putting a gun to a
head and pulling the trigger.
But my girl said our guns are fake, and that real guns kill people.
"Kill?" I asked. "What's that?" She smiled and said,
"It's telling someone that everything in the world is a lie."
Every day, she and I pointed fake guns at each other in
our secret base, accessed the network, and tried to learn
about real guns. Her dream was to kill with one—but one day,
she stopped coming.
Later, people in white came to my house.
My mom screamed when they pointed a gun at me,
and when I realized it was real, I got jealous.
If I'm ever reborn, I want to shoot a real gun with my girl.