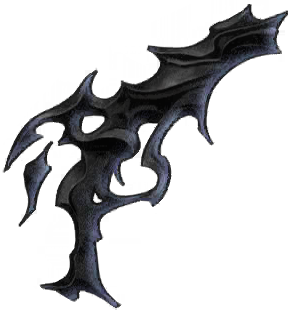 Lv. 15/15
Blackbeak Fatality x5
Deal 80% damage to one enemy 5 times (Critical damage increased by 20%).
Lv. 15/15
Blackbeak Assault x3
Deal 50% damage to one enemy 3 times and raise all allies' critical hit rate by 15% (10 seconds).
Lv. 15/15
Fatal
Critical hit damage up by 15%.
Lv. 15/15
Barrier: Curtain of Darkness Rank 2
Reduce the effect of Burden: Curtain of Darkness.
Statistics
Level 90 (Max Limit Break)
Timed or conditional passives are not included in the stats.
Weapon sources
We found 2 events corresponding to the release date of the weapon.
These may be incorrect, please check each of them
⚠️ experimental
Variation: Blazing Mage
Ends in 3 days
18 days
8/31/2023 - 9/19/2023

2000
View event
Ends in 3 days!
Stories
(Customer Review) I bought this thinking it was an item I'd
been wanting forever, but it turned out to be a replica and the
seller won't respond to any of my messages.
I want my money back!
Thank you for the photos. It seems to be in quite good
condition, so I'd like to buy it from you. I'll send a money
transfer your way shortly. Thank you!
Thank you for replying! Are there any scratches or other
imperfections? I'd like to get a better look at its condition,
if possible. Could you please upload a few
photos that show it from different angles?
Hello there. Is this gun one of the Blackbird models
produced in limited quantities in the 90s?
It looks like it might be.