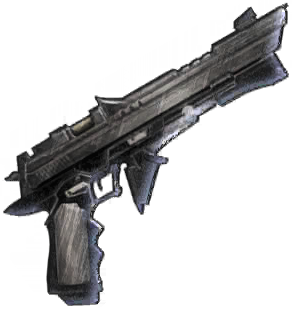 Lv. 15/15
Vengeful Gougeflash
Deal 60% damage to all enemies and reduce their defense by 10% for 10 seconds.
Lv. 15/15
Vengeful Blitz x5
Deal 75% damage to one enemy 5 times.
Statistics
Level 90 (Max Limit Break)
Timed or conditional passives are not included in the stats.
Weapon source
Sorry, no potential event source found.
Stories
Ever since his father's death, the boy had searched for his
murderer. He traveled with his father's gun in his hand as he
collected information on his target. Though it was grueling, he
knew he was getting closer.
He dreamed of the murder every night. A burglar had forced
his way into their home, and though the boy bravely placed
himself in harm's way, the burglar paid him no mind and shot
his father down.
As he traveled, he learned of his father's secret side. Many
cursed him, and some drew iron at the very mention of his
name. But the boy carried on, for he did not want to believe
his father's smiles had been false.
Years later, he found his target's home, went inside, and
pointed his gun. Just then, the man's daughter ran between
them. He hesitated, at which point he was laid low by the
same gun that killed his father.