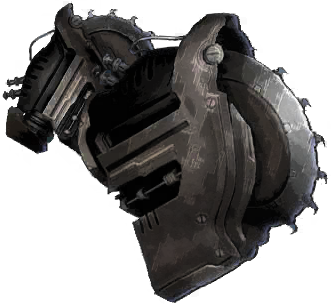 Lv. 15/15
Ironcore Caged Vigor x4
Deal 70% dmg x4 to one enemy. If your HP is 70% or lower, dmg increases the lower your HP is (up to 40%).
Lv. 15/15
Ironcore Vigor x3
Deal 40% damage to one enemy 3 times and increase your attack by 8% (10 seconds).
Lv. 15/15
Void Boon
Dark damage dealt up by 24%.
Lv. 15/15
Barrier: Debilitating Bane Rank 2
Reduce the effect of Burden: Debilitating Bane.
Statistics
Level 80 (Max Limit Break)
Timed or conditional passives are not included in the stats.
Weapon sources
We found 2 events corresponding to the release date of the weapon.
These may be incorrect, please check each of them
⚠️ experimental
Record: An Endearing Journey
Ended 14 days ago
19 days
10/31/2023 - 11/20/2023

6000
View event
Premium Summons: Divine Boor
Ended 14 days ago
19 days
View event
Stories
No joke, ma'am! Your new invention is INCREDIBLE!
Chops down even the most unruly lawns in seconds flat.
You can't keep this baby hidden away at home—
you gottta sell it and get RICH!
Wait, you need your husband's permission
to sell it because a woman shouldn't work?
Hmm. I find that hard to understand,
seeing as we're commoners and all.
You've been looking low lately, ma'am.
Is it because your husband made you stop inventing?
Poor thing. You were always most beautiful when you were fiddling
with machinery and covered in oil.
I haven't seen that lady in a while.
...Wait, she left the manor and went back to her parents'
house? Then started her own business and got rich!?
Sure sucks for her husband! Ha ha ha ha!