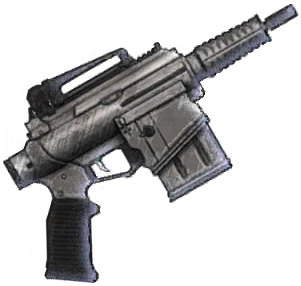 Lv. 15/15
Ethical Gougeflash
Deal 50% damage to all enemies and reduce their defense by 8% for 10 seconds.
Lv. 15/15
Ethical Leadfoot x3
Deal 40% damage to one enemy 3 times and reduce their agility by 8% for 10 seconds.
Lv. 15/15
Barrier: Corrosive Smog Rank 2
Reduce the effect of Burden: Corrosive Smog.
Statistics
Level 80 (Max Limit Break)
Timed or conditional passives are not included in the stats.
Weapon source
Sorry, no potential event source found.
Stories
Today I shot my homeroom teacher. Why do adults always,
always, say such dirty words to me? Calling me worthless,
dumb, trash... It's unforgiveable. A world that won't
acknowledge me is just wrong, and that's a fact.
Today I went to the house of someone who had once picked a
fight with me. He started yelling when I entered, so I knew my
bad feeling was right. No, my good feeling. Because my bullet
rids the world of distortion.
Today I came across some townspeople causing a ruckus.
They started cursing the moment they saw me, but my bullets
drowned them out. Yes sir, my honest work is making the
world a cleaner place.
There are words we mustn't say in this world, and it's my job
to stamp them out. I'm proud of what I do; I believe my efforts
make the world a more proper place.