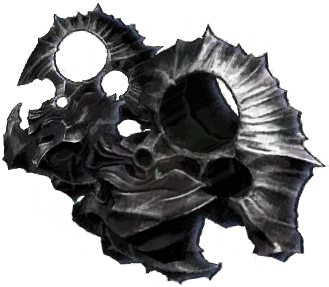 Lv. 15/15
Darkweave Assault x4
Deal 45% damage to one enemy 4 times and raise all allies' critical hit rate by 15% for 10 seconds.
Lv. 15/15
Darkweave Fatality x3
Deal 50% damage to one enemy 3 times and increase damage dealt by critical hits by 15% for 10 seconds.
Lv. 15/15
Ambush
Critical rate up by 10%.
Lv. 15/15
Barrier: Corrosive Smog Rank 2
Reduce the effect of Burden: Corrosive Smog.
Statistics
Level 90 (Max Limit Break)
Timed or conditional passives are not included in the stats.
Weapon sources
We found 2 events corresponding to the release date of the weapon.
These may be incorrect, please check each of them
⚠️ experimental
Premium Summons: Bloody Witch
Ended over 1 year ago
15 days
View event
Variation: Blazing Daemon
Ended over 1 year ago
15 days
5/7/2022 - 5/23/2022

1500
View event
Stories
The other request I made so long ago? I asked for a lock
of her hair. I put it in a bottle and carried it with me—and
with the war ended and my hands free, I can now stroke
it whenever I like.
When the war finally ended, the girl became an actress
that brought life to the people. Her trademark was a pin
of a black bird, and soon everyone wore the same pin just
to be closer to her beauty.
One day, I asked her if she could run her hair across
my cheek. When she did, I felt a surge of energy from
the bottom of my heart. So before I went to sleep, I made
another request of her.
I met a girl with glossy, silken hair that stretched down
to her shoulder blades. But because the military
forced me to wear gauntlets at all times, I was
never able to touch it.