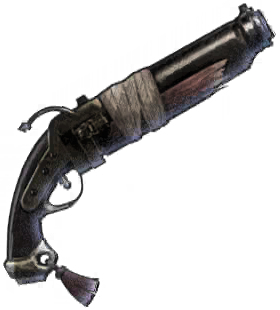 Lv. 15/15
Bloodied Flash
Deal 100% damage to all enemies.
Lv. 15/15
Bloodied Valiance x4
Deal 45% damage to one enemy 4 times and increase all allies' attack by 7% for 10 seconds.
Lv. 15/15
Barrier: Debilitating Bane Rank 4
Reduce the effect of Burden: Debilitating Bane.
Barrier: Curtain of Darkness Rank 4
Reduce the effect of Burden: Curtain of Darkness.
Statistics
Level 90 (Max Limit Break)
Level 100 (MLB + Refined)
Timed or conditional passives are not included in the stats.
Weapon source
Sorry, no potential event source found.
Stories
She once claimed she had no right to call herself
human; rather, she was a heartless tool for having
betrayed love. For no matter how much death her
gun dealt out, it remained as cold as ice.
Load. Aim. Fire. Load. Aim. Fire. Load. Aim. Fire.
She did not just use a gun—she was a gun.
One member of the force was a female gunslinger who was
the very picture of cruelty. The more she pulled the trigger, the
more enemies died. This clarity suited her, which is why she
wielded a gun.
There was once a vile military unit called the Red Devils.
They were a terrifying bunch, made up of the most heinous
criminals in the world. They fought for bloodlust alone;
a band of mindless, carnage-soaked instruments.