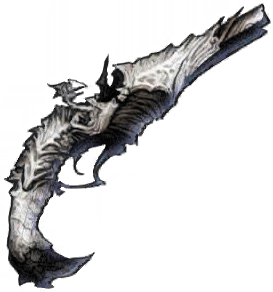 Lv. 15/15
Absurd Blaze Boon x5
Deal 100% damage to one enemy 5 times. When your character is equipped with their proficient weapon, increase your fire damage by 50% for 15 sec.
Lv. 15/15
Absurd Assault x4
Deal 55% damage to one enemy 4 times and raise all allies' critical hit rate by 20% for 10 seconds.
Lv. 15/15
Blaze Boon
Fire damage dealt up by 30%.
Lv. 15/15
Blaze Haste
Skill cooldown time reduced by 10% while equipped with a fire-affinity main weapon.
Lv. 15/15
Barrier: Curtain of Darkness Rank 4
Reduce the effect of Burden: Curtain of Darkness.
Barrier: Corrosive Smog Rank 4
Reduce the effect of Burden: Corrosive Smog.
Statistics
Level 90 (Max Limit Break)
Level 100 (MLB + Refined)
Timed or conditional passives are not included in the stats.
Weapon sources
We found 2 events corresponding to the release date of the weapon.
These may be incorrect, please check each of them
⚠️ experimental
Premium Summons: Abstract Belle
Ended 19 days ago
30 days
View event
Record; Traces of Pursuit
Ended about 1 month ago
16 days
4/7/2023 - 4/24/2023

6000
View event
Stories
There's a fabric-wrapped box in our house that Grandma
made me swear never to open. Now that's obviously an
ominous thing to say, but I'm pretty satisfied with my life,
so I'm okay leaving it be.
Today I found the box open—the work of either a thief or an
animal. The house is in a panic, but Grandma—the only one
who knew what was in there—is calm. It's like she's a
totally different person.
Grandma hasn't said a word since the box was opened and our
family is a complete mess. So yesterday I left, vowing revenge
on whoever it was that opened the box and
destroyed my peaceful life.
You opened it you opened it you opened it you opened it you
opened it you opened it you opened it you opened it you opened
it you opened it you opened it you opened it you opened it
I told you not to look